25 Underrated Bollywood Movies you must watch.
We know so many blockbuster movies, but there were dozens of outstanding films that failed to secure the audience they deserved. Too many of these smaller films received an extremely limited theatrical release and/or were overshadowed by other films. If you are also looking for some great movies to watch, you should definitely try these ones at least once in your life and we assure your faith in Bollywood's capability will be restored.
Here is the list of 25  Underrated Bollywood Movies That You MUST Watch :
• Ship of Theseus (2012)
An experimental photographer, an ailing monk, and a young stockbroker explore identity, justice, beauty and the meaning of life and death.
• Aligarh (2015)

Dr. Shrinivas Ramchandra Siras, a professor on whom a sting operation was carried out to determine his sexual orientation,
forms a special bond with the journalist who covers his story.
• Masaan (2015)
Devi and Deepak, two unrelated people in Varanasi, try to leave behind the stigma attached to their past because of societal norms and behavior. Their family members find it difficult to adjust.
• Trapped (2017)

Shaurya unintentionally locks himself inside his new house in an uninhabited high-rise and finds it hard to survive without water, food, and electricity.
• Ankhon Dekhi (2013)
When Bauji sees that the man his daughter is in love with is a good man, contrary to the opinions of the villagers, he decides to believe only the things he can see with his eyes.
• Phobia (2016)

Mehak, a talented young woman, becomes a victim of agoraphobia. Later, she comes across something that makes her believe that she is being haunted by a spirit.
• Filmistaan (2014)
Sunny, an assistant film director in Mumbai, aspires to become a superstar. While working with an American crew, he is mistakenly kidnapped by an Islamic terrorist group. Cinema comes to his rescue.
• Stanley Ka Dabba (2011)

School boy Stanley does not carry lunch, which is noticed by a teacher who forces kids to share their food with him.
He soon warns Stanley that he must get a lunch box if he wants to attend school.
• The Lunchbox (2013)
An unlikely goof-up by a tiffin carrier service results in Ila's Tiffin, that was made for her husband, being delivered to Saajan Fernandes. An unusual friendship soon develops between Ila and Saajan.
• Parched (2015)

Four women in Gujarat talk about men, sex, and life as they struggle with their individual demons.
• Titli (2014)

When a young man attempts to escape the life of carjacking that his brothers have planned for him, he finds an unlikely ally in Neelu, the woman they've arranged for him to marry.
• Nil Battey Sannata (2015)
Apeksha, a class ten student, loses interest in her studies as she feels that she can only become a maid like her mother, who tries hard to get her educated.
• Waiting (2015)

Tara and Shiv meet at a hospital where their spouses are admitted. The two develop an extraordinary friendship as they get to know each other.
• Shahid (2013)

Shahid Azmi (Raj Kumar Yadav) becomes an unlikely champion of human rights, particularly for India's Muslim minority.
• Udaan (2010)

After being expelled from school, Rohan returns home to a strict father as well as a half-brother he was unaware of.
He is forced to work at his father's factory even though he wants to write.
• Liar's Dice (2013)

Kamala, a young woman from Chitkul village and her girl child Manya, embark on a journey leaving their native land in search for her missing husband.
• Dhanak (2015)

Orphaned siblings Pari and Chotu embark on a journey to restore Chotu's eyesight.
• Margarita with a Straw (2014)

A rebellious young woman with cerebral palsy leaves India to study in New York. On her journey of self-discovery, she unexpectedly falls in love.
• Qissa (2013)

A Sikh named Umber Singh lives with his wife and three daughters in Punjab post-Partition and is desperate to have a male child. When a fourth daughter is born, he decides to bring her up as a male.
• Manjhi: The Mountain Man (2015)
After his wife passes away trying to cross a mountain, Manjhi, out of sheer rage, sets out on a quest to carve a road through the treacherous mountain.
• Parzania (2005)

A Parsi couple struggles to cope with their son who is participating in genocidal riots.
• Firaaq (2008)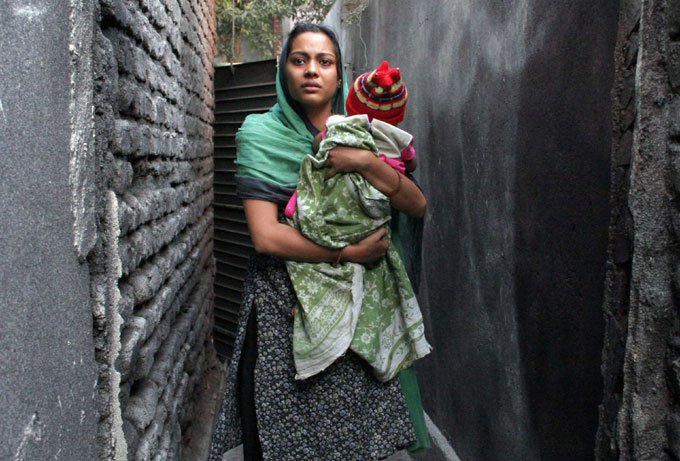 Based on riots that took place in Gujarat in 2002, the film traces the emotional journey of ordinary people – some who were victims, some perpetrators and some who choose to watch silently.
• I Am Kalam (2010)
A poor boy derives inspiration from the former President of India, A. P. J. Abdul Kalam. He then decides to change his name to Kalam and harbors a dream of meeting the visionary.
• Ugly (2013)
Police use extreme tactics while investigating the kidnapping of a 10-year-old girl.
• Dhobi Ghat (2010)

The video diaries of a former tenant of his apartment fascinate the artist (Aamir Khan) who currently lives there, while an investment banker (Monica Dogra) befriends a pair of workers for a research project.